FREEZING FUTURE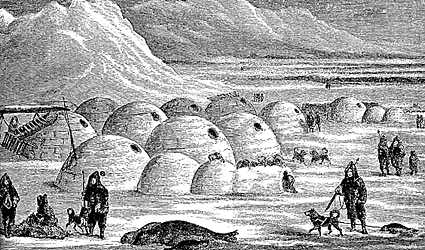 Early igloos
Heating-oil futures drove the energy market higher Friday on the New York Mercantile Exchange, as concern about the adequacy of supplies to meet fourth-quarter demand mounted.
Here it comes.
This is what the Hubbert Oil Peak is all about: freezing people to death. The curious inattention to this development is not surprising. More pipe lines blow up in Iraq, Bush has a jolly converstation with the Washington Post about Deep Throat, the pundit chatting with this man didn't ask him about these things, indeed, the media covers this subject in a very detached way.
Bush cut the funds for Home Heating Assistance last year.
July-dated crude futures rose 1.8%, or 97 cents, to $54.60 a barrel Friday on the Nymex. July heating oil rose 1.9%, or 2.98 cents, to $1.572 a gallon.

"Now as the 'fear' over gasoline supplies is fading, the next 'fear' is heating oil," Kyle Cooper, energy analyst at Citigroup, told clients. "Middle distillate inventories in the U.S. are almost exactly equal to last year as of May 27, and they are 15.6 million barrels higher in Europe at the end of April. From fear to fear. Fact means little."

Mike Fitzpatrick, energy analyst at Fimat, pointed out that the Energy Information Administration, the reporting arm of the Energy Department, suggested there's plenty of time to rebuild stocks ahead of the winter heating-oil season.

"Still, despite a refinery operating rate of 96%, distillate stocks are simply not showing signs of replenishment," he told clients in a note.
So what is it? OK? Or going badly? There is an easy way to tell. Prices are going up. This means there will be plenty of heating oil via the simple Darwinian mechanism of eliminating potential customers. In the Northeast and Northern states this means cutting supplies to people on fixed incomes like the elderly. Many of them will be encouraged to put their homes into hock to pay for heat and taxes. The elimination of the "ownership" society continues apace. When it finishes, virtually no one who isn't rich wil be "owning" anything at all.
Also on the Nymex, July gasoline rose 1.8%, or 2.76 cents, to $1.543 a gallon. July natural gas rose 6.1 cents to $6.88 per million British thermal units.
When we started our crusade against Muslims, Bush famously said that we will do this to "protect the American way of life" and Cheney hotly said that we don't need to change anything at all. Well, we are changing now, and doing it haphazardly. Smart people who prepared for this day are going to do really well. Everyone else will discover that you can't retrofit without funds.
And how many people are using the equity in their homes to outfit them with energy effeciency items?
Nearly all the wealth in our homes has been wasted on fashionable renovations, toys and trips.
Lenders say they are offering what most customers want. With home prices rising so quickly, many buyers couldn't afford homes without using adjustable or interest-only loans, which "fit their pocketbooks and their needs a little more precisely," said Heather McElrath, a spokeswoman for the American Bankers Association. She added that society is so mobile today that many buyers believe they will not be in their homes long-term and prefer a shorter-term time horizon to manage their money better.

"We're a society that prefers instant gratification -- it's a short-term rather than a long-term focus," McElrath said.
The grasshopper view of the world triumphs over the ant's industry until the first snowflakes fall.