KATRINA BLOWS RIGHT PAST US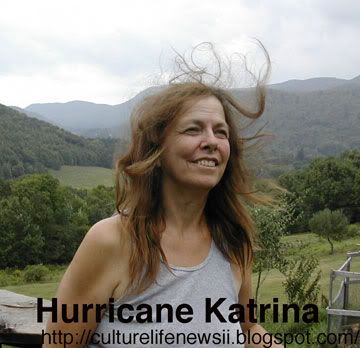 By Elaine Meinel Supkis
The rain started two days ago for Hurricane Katrina had quite a reach, pulling moisture from the Atlantic, the Gulf and the Pacific Oceans all at once. Over an inch fell here. We have been in this drought so the rain was a blessing. But this morning, as the remains of that hurricane swirled up the center of America, we could feel the oppression for the isobars were still pretty low.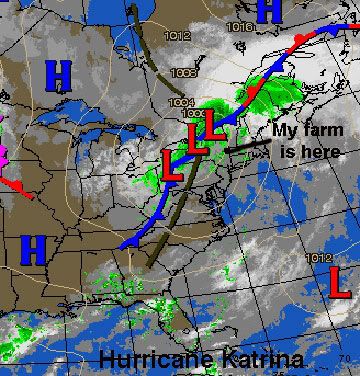 From Intellicast.com.
You see, the hurricane broke in three. Like that comet that hit Jupiter, one fragment after another, piling in, this hurricane is taking two days to pass us by.
This morning at dawn, the oppression of the depression passing to the west of us woke me up. My family gets migrane headaches with big storms and my head felt funny and my eyes were hypersensitive. The wind blew hard and then died down and the sun broke out and it looked all so beautiful. I posted the picture at 8am.
Then it got more depressive and my head began to really hurt around lunch. But I still not only blogged on, I worked outside because it wasn't raining. But that low passed by with violent gusts of wind that sent the trees bending and after the worst gusts, we took pictures outside. So far, no problems. The wind is this powerful so far away from the hurricane, it is pretty awesome.
My son called from work to complain about his own headaches. He needed to know how long this was going to happen. I told him the last low had passed us by. I was wrong. (Heh! Wrong! Missed a prediction!!!)
The winds then died down a second time and we ran around doing things but then my head began to pound again. I went inside to check it out. The two lows earlier now had three! And the third one is pushing rain this way.
So we will get some of the actual rain from the main low of Katrina after all!
It is hot and muggy. Quite different from even three hours ago, the temperature is going up even as the sun is more and more scarce.
The rain is beginning to pelt the windows. I had to move my plants around on the deck because the bigger ones were being toppled over by the gusts. But that is pretty much all. I am glad Her fury was spent by the time She came up here. My heart goes out to everyone else who wasn't so lucky.
&spades And on the energy front, this news:
From MSN.com:
In the markets, by mid-morning in London on Wednesday, Nymex West Texas Intermediate was again creeping back towards the nominal record high of $70.85 a barrel hit on Tuesday as speculators expected US oil inventories to be squeezed. WTI for October delivery stood at $70.50 a barrel, up 69 cents from Tuesday's close. Gasoline futures moved up more than 3 per cent to $2.57 a gallon, also a new record.

The damage from Hurricane Katrina has been worse than expected, initial assessments showed on Tuesday, prompting a new rise in oil prices to record levels and raising concerns about the cost of insurance in the Gulf of Mexico.

Industry sources said that one big underwriter had already stopped providing business-interruption insurance in the Gulf and others warned that rising storm losses would lead to premiums so high that insuring platforms could become uneconomic.

Damage assessments on Tuesday suggested that it could take a week to restart refineries hit by the hurricane at a time when supplies already are tight.
One group of people very interested in global warming issues and sea rise issues are the insurers. They have been pushing for changes for a while. Which is why Bush chose this week, oh, such timing!--to have the EPA (Energy Pollutes America) allow old coal burning generators to continue polluting the air and killing my forest.
Yes, my forest has been dying for quite a while. The grandest, oldest trees are suffering greatly. All my maples older than 60 years are rotting away, they just up and die on me! I took down several 300 year old maples this last 10 years and although I have many saplings, the middle aged ones are now dying! Not to mention the other bad stuff from acid rain which affects all the trees including the swift growing, swift dying pines.
In 1600, the natives made long houses here using the loose bark from huge white birch trees. They peeled off the bark which peels off naturally. In huge sheets. The average full sized one had trunks about 2-3'+ in diameter. Now, they die when only 1' in diameter. They just sigh, lose their leaves and then topple over. As babies.
Bah.
To return to homepage click here